firetigersales
<- here, but I included all of the items in this post, just in case you'd rather look at them here.
Info is under the cut!
I'm selling my entire collection. Everything must go, so feel free to make an offer.
If you'd like to buy everything in this post for $200 (not including shipping), send me a PM.
(
Information
Collapse
)
(
CDs/DVDs
Collapse
)
(
Giant Wall Calendar ($25)
Collapse
)
Hello all, I'm selling the rest of my Gackt/Malice Mizer items. Everything is on my selling journal, which is located
Bands such as: Dir en grey, Psycho le Cemu, D'espairs Ray, Malice Mizer, Rentrer en soi, LM.C, Phantasmagoria, MUCC, BLOOD, Buck-Tick, deathgaze, lynch., Polysics, sadie, a fact of life, born, moi dix moi, quaff, girugamesh, an cafe, miyavi, D, L'arc en ciel, Aya Maatsura, and more.
For more info please check it out
here
@
lordofshadowz
. Feel free to check out my other items on sale.
firetigersales
Here's a list of all the Malice Mizer items I'm selling there:
Malice Mizer single - 麗しき仮面の招待状
Malice Mizer - Voyage
Malice Mizer - 虚無の中での遊戯
Malice Mizer - Mervilles L'espace (Concert VHS)
Malice Mizer - Sans Retour Voyage "derniere" (Concert VHS)
Malice Mizer - Merveilles -cinq parallele- (VHS)
Malice Mizer - ヴェル・エール~空白の瞬間の中で~ BOX SET (full CD + VHS)
Malice Mizer - Ma Cherie (CD + Booklet)
Malice Mizer - Au revoir
Malice Mizer - Illuminati
Malice Mizer - ヴェル・エール~空白の瞬間の中で~
Malice Mizer - 月下の夜想曲
Malice Mizer - Le Ciel
I also have some GLBs for sale.
Thank you!
Hello all! I'm selling all of my Malice Mizer items. They can all be found on my selling journal here: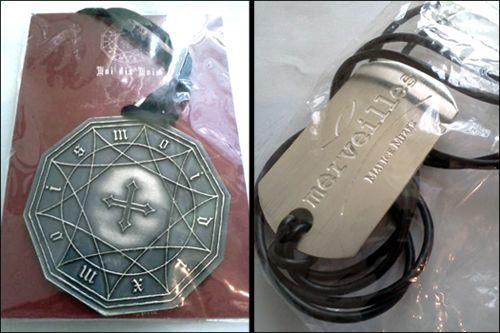 Moi dix Mois necklace. New in packaging and never worn. I've had this for some time and kept it safely stored away. Would like $20 inc postage or best offer :)
Malice Mizer necklace. New in packaging and never worn. Like the Moi dix Mois necklace, it has just been stored safely away and never worn. Would like $14 inc postage or best offer please :)
I ship from the UK but the prices include postage to anywhere in the world. If you would like insurance let me know and I'll let you know how much that will be! Please don't hesitate to make offers and I am more than happy to cut a deal if you want to purchase both necklaces!
The necklaces are also crossposted to other communities!
Bands included are: Dir en grey, Psycho le Cemu, D'espairs Ray, Malice Mizer, 12012, and many more.
Added: Dir en grey items such as DVDs, Magazines, Doujinshi, stickers, CD's, Psycho le cemu items such as, Magazines, figurines, CD's, also added Creeper Shoes
Please come check it out
here
@
lordofshadowz
*All items are of course Japanese originals.
*The vast majority are in very good condition. Please ask me if you have questions regarding any specific item(s). Pictures can be uploaded to my journal upon request.
*Payment is to be made to my PayPal account. Prices do not include shipping/packaging. I don't charge for PayPal fees.
*I'm a reasonable gal, so I can put items on hold if you can't pay right away! However, I ask that you, as much as possible, only reserve items that you are likely to end up purchasing, and try to avoid reserving items "just in case". Also, if I don't hear back from you after an extended period of time despite efforts to contact you, I might decide to cancel your order.
*Items will be shipped from Tokyo by either regular airmail or economy airmail, but I can ship by EMS or surface mail if requested.
(
Read more...
Collapse
)
Here are some visual kei CDs and other items for sale. Originally, I was just cleaning out my personal collection, but I will start selling items for friends here in Tokyo as well, so the list will be updated every now and then. About 80 new items have been added, and there have been a few cancellations of orders, so I took the liberty of creating a new post.
New items and clearance sale added
Bands: Dir en grey, Deathgaze, Rentrer en soi, MUCC, Miyavi, 12012, Psycho le cemu, Kain, Logio, The Bullet, Zig Zag, Nocturnal Bloodlust, Malice Mizer, hide, D'espairs ray, Aya Matsuura, Acid Android, Nightmare, and more.
Items:
Posters
Clothing
Flyers
Posters
CD's
Magazines
Stickers
Doujinshi
Misc.
You can find all these items and more here:
http://lordofshadowz.livejournal.com/1114.html#cutid1
Hi,
Sorry if this is in the wrong place, but I thought I'd let you guys know that I'm selling some old issues of Gothic & Lolita Bible on
eBay
The issues are: August 2008 & Spring 2009 of the English Edition, and 4,5,6 & 14 of the Japanese edition
They all have features on Mana, so I thought you guys might be interested


I've been out of the loop (and away from LJ) for longer than I care to admit, so when I logged in today and realized that we didn't have tags here, I kicked myself for not doing it sooner and finally got it done. If there are any that I'm missing, please feel free to let me know!

For clarification, I thought I'd go over a few of the more vague tags:

- graphics
Covers layouts, wallpapers and profile layouts

- youtube
Covers YouTube channels dedicated to Malice Mizer

- fan projects
Covers things that aren't traditional fanart -- plushes, modified dolls, etc.

- seeking assistance
Covers members seeking other members to help with things like translations or websites.

I went back and tagged a few posts for reference, but from here on you're free to tag them yourselves as you post~♥

That said, I think the place could use a new layout, since our old one died forever ago and I seem to have completely forgotten how to make them. I've got one of the defaults up in the meantime, but would anyone be interested in making a new one for the community? You'd get full credit in the profile :)
Hi guys!